Maybe you're struggling to get your change moving, or you can't seem to get others to help you create your change, or you're passionate about a change but think you don't have enough power or position to make it happen. You can create your change. You don't need more money, time, or authority. What you need is more change agency.
Change agency is the skills and ability to create the changes you want in the world around you.  Too few people have been taught how to build and harness their change agency and the change agency of those around them. Hence, most changes are frustrating, slow, and fail to reach their goals. With a little bit of training, you can be on your way to joyful, accelerated, successful change.
Don't wait for someone someday to do something;
start driving your change today!
At Engine-for-Change, we help individuals, organizations, and communities build their change agency, so they can transform themselves and their results, through simple tactics grounded in the Change Agent Essentials. Learn more »
Whether you're creating change in a large organization or starting a small project in your community, you are powerful beyond measure if you Drive Change. We can help you shift from Driving People to Driving Change and achieve powerful, sustainable results.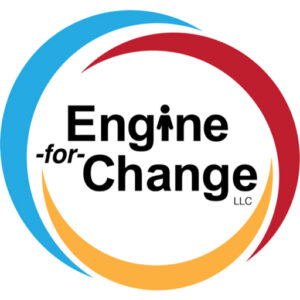 Relaunch of Engine-for-Change
Welcome to the new Engine-for-Change.  After almost 12 years, it seemed time for an upgrade. This site started in December 2009 with a simple post "Welcome to Engine for Change."  I said: Welcome to Engine-For-Change.com, my new weblog and site for all things related to helping you drive the personal, community or workplace change you …
Many speakers can energize a room, few move audiences to act after the presentation.  April specializes in tailored session for small groups and customized calls to action for large keynotes that provide your audience with a fresh perspective on change, their change agency, and tactics they can use immediately to drive the changes they want.
Unlike other speakers who deliver a canned, repeated speech, April brings her signature insights, but customizes each speech to connect with your audience, activate their change agency, and spark action.
Whether in person, or virtual, April commands the stage, screen or podcast, delivering memorable stories, compelling concepts, and repeatable quotes that leave your audience positively changed and engaged.
If you're looking for a technical woman, mother, and community leader with deep insights and a range of expertise spanning public, private, volunteer and international organizations, you'll want to book April for your event.
As a busy leader, author, and mother, April's speaking engagement opportunities fill up fast, so contact April today.
Founder April K. Mills, an engineer-turned-change-evangelist, is an energizing global voice on change agency, change engagement, and accelerating sustainable results. She is the author of Everyone Is a Change Agent: A Guide to the Change Agent Essentials and Change Tactics: 50 Ways Change Agents Boldly Escape the Status Quo.
April's proceeds from sales of Everyone Is a Change Agent and Change Tactics support Gully Crest Homestead, a private retreat center for families who have children with special needs. April founded Gully Crest Homestead near Goldendale, Washington, because in a world of accelerating change, we all need more accessible rest.